If you subscribe to the Brands with Fans newsletter, you are already familiar with many of the features Mailchimp Marketing campaigns offer. You could always head over to Mailchimp's official blog for more information on running a newsletter campaign, but we thought you'd want to know why Fandom recommends Mailchimp for our clients and how Mailchimp and content marketing go hand in hand.
Through a variety of industries and with many clients, not to mention for our own brand, we've been able to successfully manage campaigns and programs from this fun company who is not afraid to put personality into everything they do. Kind of like us!
Types of Campaigns
A/B  Split Campaign
This is probably one of the best features we could ask for from a marketing campaign. The ability to test subject lines with a small (random) audience before sending to the full list which subject line appealed to a wider audience provides us with insight into what OUR customers and our clients' consumers are interested in. This makes it easier to plan long term for future promotions and strategically back-up the type of promotions we're running across social channels to support the full marketing program.
You can select which percentage to start with although the default from Mailchimp is to send two test emails, with two separate subject lines, to 20% of your list. The "winning" subject line will then be sent out to the remaining 80% of your list. You also get to specify the time frame for the initial round of testing. The default is 24 hours.
A/B Split campaigns can also be separated into different names in the FROM field as well as delivery dates and times, great for testing those accounts who seem sold on the fact that Tuesday is the best day to send out email newsletters.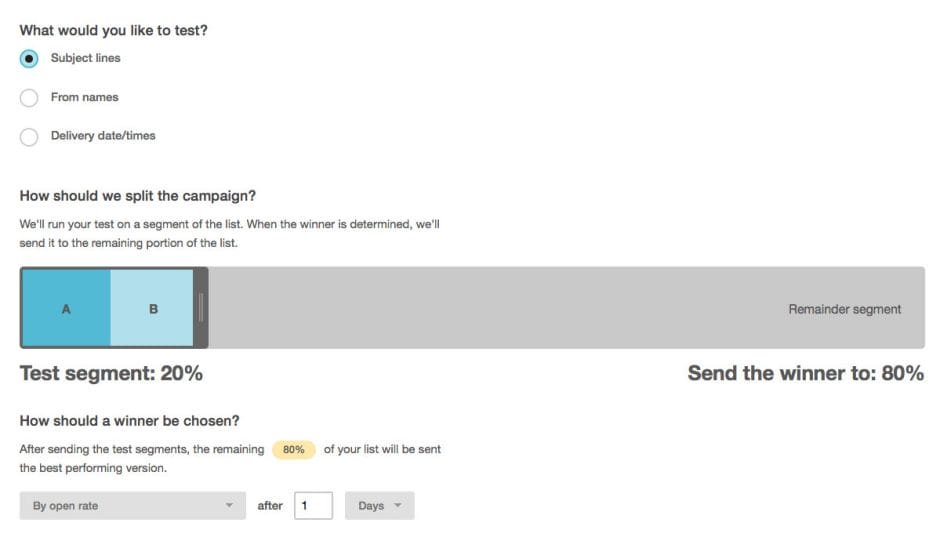 RSS-Driven Campaign
Do you have a blog and want to share the feed in a quick, easy format to your subscribers? Fandom Marketing's weekly Brands with Fans Newsletter is set up with the RSS-Driven Campaign feature, pulling our most recent blog posts into a lovely little newsletter for you to see what you may have missed.
Once this campaign is set up, it's an automatic recurring campaign, which you can schedule to be sent at the same time each week. This is great for keeping your subscribers and customers programmed to look for – and look forward to – your content at the same time each week.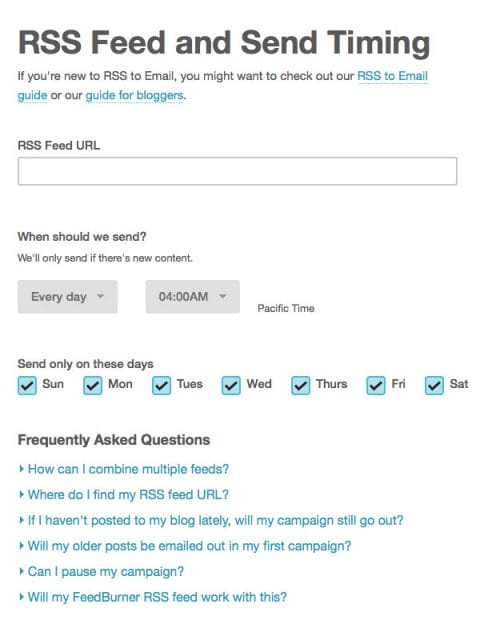 Regular Ol' Campaign
This sounds pretty boring compared to the two campaigns we just mentioned, but this regular ol' campaign can be created with a multitude of templates and designs. You can also use the drag and drop features to create a unique campaign each and every time if you desire.
These campaigns are modified for mobile devices or you can start with a mobile template if the majority of your subscribers open their email on the go. Luckily, you can see these statistics in your Reports menu, along with the open rate and click rate for each campaign.
If you choose to integrate your account with Google Analytics, you can also track your open rate and click rates right in your GA dashboard.
Features
Facebook Sign-Up tab
Integrating your sign-up form into your website is essential, but also making it available in your social stream is just as important. Some clients or potential customers may check out your online presence before committing to receive more information and a simple Like on Facebook is an easy way for people to learn more about you before deciding to provide you with their email address.
We recommend you share these sign-up links regularly to remind fans and followers what they may be missing out on. You'll need to let them know why signing up would be a benefit to them, whether it be exclusive content or giveaways or information they wouldn't be able to access otherwise.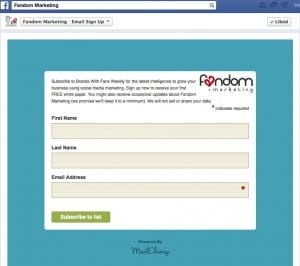 Gmail login
If you use Gmail for your company communications, being able to login to your Mailchimp account right from your Google dashboard is a quick way to give your employees access to your account without having to remember or share a password. Mailchimp provides even more Google integrations such as a quick import of your Google Contacts. You can also send a Google Docs form to your Mailchimp database and have the responses show up as a spreadsheet waiting for you in your Drive.
Coupon Codes
For those wanting to utilize the smartphone capabilities – and new trend in coupons for consumers – Pyow provides a way to insert coupon codes your customer can scan when they make their in-store purchase. Available for iOS and Android devices.
Delivery by Time Zone
If you have customers and subscribers across the country, or worldwide, you'll want to take advantage of this feature that allows you to send your campaign so it arrives at a reasonable time for everyone in your database.
Social Integrations
Instagram
InstaChimp allows you to share your photos with people even if they're not on Instagram.
Mailchimp makes it easy to send automatic email campaigns using content from all your pins or just from one board.
RebelMouse
Similar to the RSS-driven campaign we create for Brands with Fans, RebelMouse integration allows you to easily create an email campaign featuring the amazing content you've shared across all your social channels which have been curated on the RebelMouse page you've setup for your brand.
Oh, you haven't created a RebelMouse page yet for your brand? I'll cover that in an upcoming article.