Spirit Airlines, whose IPO debuted in March of this year, is a brand to keep an eye on. Not for their stock trend but for their edgy marketing tactics. Spirit launched a "Weiner Sale" promoting $9 fairs to its email list and on its website Tuesday riding the coat tails of the Weinergate debacle. Weinergate is now being used to jokingly refer to Congressman Anthony Weiner's (D., N.Y.) Twitter crotch photo story which continues to unfold this week. The brand has caught the attention of the media among them prestigious publications like the Wall Street Journal and Washington Post. And it has apparently gotten a rise out of the investment community as the stock (SAVE) has been trending to new heights over the last 48 hours.
Taking advantage of current current events and pop culture can certainly get your product talked about via buzz,  free press and consumer awareness. The question is at what cost to the brand identity and will it lead to sales? There will be a segment of people who will see this an never buy from this brand again out of pure disgust. Those with a sense of humor will appreciate it. Those who want a good deal regardless of bad taste will take them up on their weiner regardless. Just for fun I checked the sentiment on Twitter and I found mixed feelings. Sentiment is not 100% accurate so take it with a grain of salt.
Sentiment for "Spirit Airlines" from Tweetfeel

Sentiment for "Spirit Airlines" from TweetTone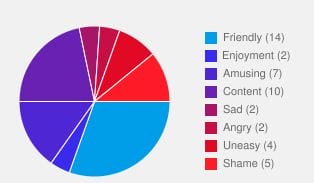 What's your sentiment? Is the brand taking advantage? Too tacky? Brilliant?
The ads, as of now, are still live on the Spirit Airlines website. Ads: