Yesterday a candy bomb dropped on the social media community and rainbow-tongued teens when a major brand website was transformed into a mash up of social networking sites. Welcome to Skittles "Interweb the Rainbow" (Yes, this is the homepage!):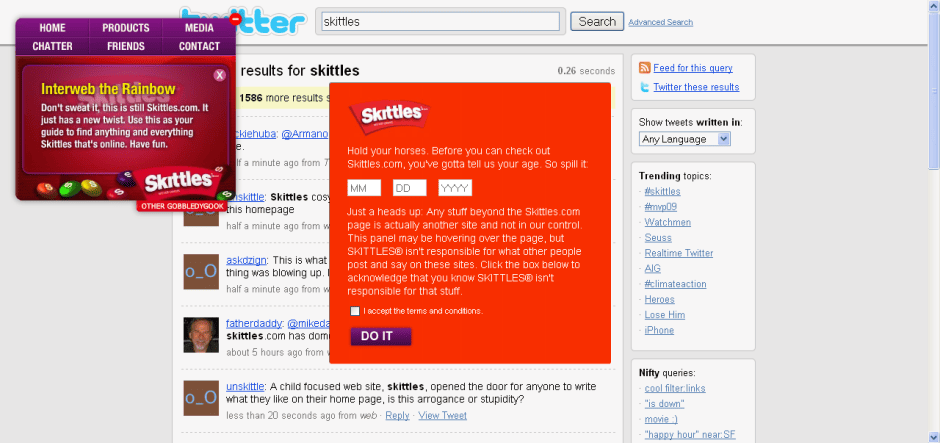 Innovative? Absolutely. The future of web design? That's yet to be seen.
It has the industry spinning. I think I will hold my judgment until I see it play out. This is a completely new approach for a big brand on how it engages with customers online. My initial reaction was to question if these social networks (Twitter, Facebook, Wikipedia, Flickr, YouTube) align with their core target market. Case in point Twitter which now makes up the new Skittles homepage is currently used by bloggers, mainstream media and professionals. But kids, teens and the average Joe have little interest in Twitter at this stage, let alone understand it. Is this a meaningful experience for their consumer base? Leading to my next initial reaction around usability. The floating widget that replaced their standard website navigation menu is full of form not function. The menu is a disjointed and confusing experience for the average user without much social networking experience.
Big props to Skittles for "listening to customers", allowing "customers to define your brand", and taking on the risk to "innovate". It's everything being preached in marketing at the moment. Brilliant or bust I love you for the great case study.
What others are saying:
"They are onto something"
http://bmorrissey.typepad.com/brianmorrissey/2009/03/is-skittles-onto-something.html?cid=150369751#comments
"It's the worst thing ever"
http://www.thisisgoingtobebig.com/2009/03/skittlescom-is-the-worst-thing-to-ever-happen-to-social-media-branding.html
"Skittlemania disrupts the day"
http://experiencematters.criticalmass.com/2009/03/03/skittlemania-disrupts-the-web-for-a-day/
"What are you doing Skittles!"
http://blogs.wsj.com/digits/2009/03/03/what-are-you-doing-skittles/