Fandom Marketing is excited to kick off our Expert Series with Kristin Helms, Marketing Manager at the Manchester Grand Hyatt San Diego. Kristin shares what makes Manchester Grand Hyatt a true social media hotel. 
Social Media is such an important tool to connect with hotel guests during each stage of the booking cycle: shopping/purchasing stage, experiential stage (during their stay with us) and post-experiential stage (after they've departed). This particular blog post will focus on the shopping/purchasing stage and how the Manchester Grand Hyatt San Diego connects with our future guests.
Let's say a family from Arizona has decided to beat the heat and take a trip to San Diego over Memorial Day weekend. The family is excited about their upcoming vacation and begins to search for hotel rooms. It's very common for future guests to research online reviews and reach out to their most trusted travel advisors, their friends and family, during this shopping stage. Common Facebook posts and tweets during this stage may consist of: "Anyone have a great hotel recommendation in San Diego?" At this point, since our future guests are actively searching for a hotel in our market, our hotel begins to actively search for these buyers.
Connecting With Customers
Closely monitor your online reviews.
81% of travelers find user reviews important and will check these online hotel reviews before making room reservations. Make sure you have a dedicated person or team who is responding to all reviews across all channels (TripAdvisor, Yelp, Google, Online Travel Agencies, etc.), especially the negative ones. Guests want to know that their concerns have been heard. Be sure to share any issues that are trending on your review sites with the appropriate departments within the hotel and work together to set up action plans to rectify the common complaints. This will help prevent these same issues from showing up in future reviews. Future guests who are in the shopping stage also like to see that a hotel is paying attention to their reviews and responding.
We had an example of a particular guest who wrote a wonderful blog about our property after his stay and he mentioned that he had originally booked a room at one of our competing downtown San Diego hotels, but changed his reservation to the Manchester Grand Hyatt San Diego once he saw that our management was responding to guest reviews on TripAdvisor. He went on to have a fabulous stay at our hotel and provided some great online coverage for us on his blog.
Monitor key phrases and words on your social media channels.
Manchester Grand Hyatt San Diego uses a tool, Revinate, to monitor certain terms and phrases across all social media networks and blogs. Any time a person tweets or posts about a possible trip to San Diego, this shows up on our feed and we reach out to this potential guest directly to offer assistance in booking hotel rooms or to answer any questions they might have.
After they've made the decision to book a room at the Manchester Grand Hyatt San Diego, many guests love to share the good news on their social media channels. "Can't wait for our stay at the Manchester Grand Hyatt over Memorial Day Weekend!" This is a great opportunity for our hotel to connect with these guests before they arrive (if we haven't already connected with them in the shopping stage).
Using specific search terms that we have set up to monitor in Revinate, The Manchester Grand Hyatt finds these posts and reaches out to guests who mention our hotel online. We do this to (a.) let them know that we are active on the social media channel that they are using and that they can use us as a resource during their stay (we'll recommend restaurants, activities, aid with special requests, etc.) and (b.) promote any special offers or hotel outlets that they shouldn't miss during their stay. "Our @SallysSeafood has a great Tapas Hour daily from 2:30-5PM on the San Diego Bay" or "Our @Kin_Spa is offering their Summer Specials through the end of August – be sure to check them out while you're here on property for some R&R!"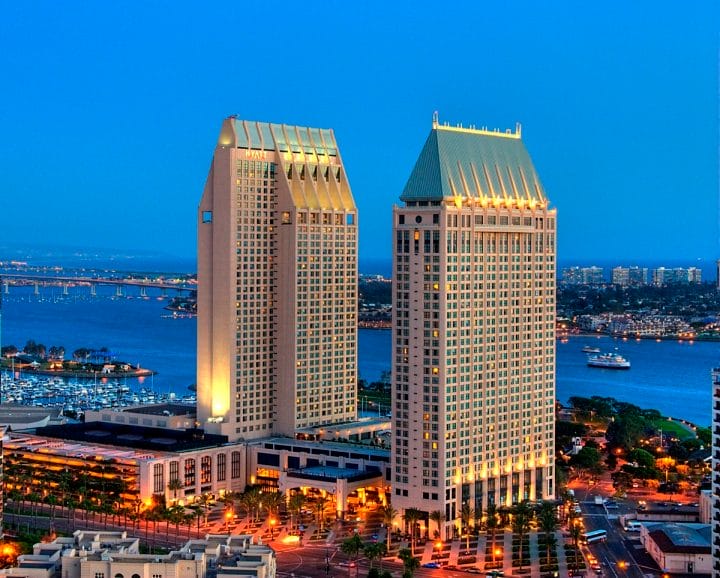 Connecting With Influencers
If a guest is considered "influential" on social media (tools like Sprout social help us determine who is an influential follower) then we may even schedule sending a small amenity to their room with a "Stay Social" card that lists all of our different social media pages and an invitation to leave us feedback on TripAdvisor after their stay. We do this to build brand loyalty and keep the online conversation going – fostering engagement and more mentions of our hotel to their social networks.
A great example of fostering relationships with influential users during their stay is when we connected with Angela Quisumbing on twitter, an influential "Mommy Blogger" and founder of San Diego Mom's Night Out, when her and her family checked-in to our hotel on a "Staycation". After sending a welcome tweet to the Quisumbing family, we sent up a coloring book amenity for Angela's daughter along with a personalized card and of course, our "Stay Social" card. Angela was so impressed with our online engagement with our guests that she went on to write several blogs about the Manchester Grand Hyatt San Diego. We continued our online conversation and eventually also partnered on a San Diego Mom's Night Out event where we were able to showcase our Kin Spa to this target market. All of this great exposure and partnership stemmed from a single welcome tweet to Angela during her stay.
By the time our "social" guests arrive on property, they know how to reach us online for recommendations throughout their stay (through Facebook or Twitter), they know all of the best happenings and specials offered in our different restaurants and spa, and they've already formed a certain amount of trust and are maybe even building some brand loyalty through frequent online correspondence with our property.
Meet Expert: Kristin Helms

Kristin Helms is the Marketing Manager at the Manchester Grand Hyatt San Diego, the tallest waterfront hotel on the west coast. Kristin is responsible for the overall marketing strategy, media plan, social media and public relations campaigns for the various markets within the hotel: Group, Transient, Catering/Wedding, Local, Spa and nine food & beverage outlets. Kristin is also managing the marketing communication strategy as the hotel undergoes a major renovation. Kristin received a bachelor's degree in Communication and a minor in Marketing from San Diego State University and has been in the marketing industry for the past twelve years. Connect with her on Twitter @kristinhelms or @ManchGrandHyatt and visit the Manchester Grand Hyatt on Facebook.
Want to be featured next? Fandom is looking for social marketing rock stars to share their stories, case studies, tips and expertise. Check out our blogging guidelines and contact us or tweet us @FandomMarketing today.