On March 7, 2013, Mark Zuckerberg and his team announced that they are making a major change to the look and feel of the Facebook news feed. This major redesign is expected to provide a less cluttered space with a more vibrant and vivid experience focusing on imagery. During his announcement, Zuckerberg said, "news feed is one of the most important services that we build." Apparently, this has been a project already one year in the making. Mashable did a great job of breaking down the three major components of the new news feed features: bigger Images, multiple news feeds and mobile consistency. I want to briefly touch on these features and suggest a few opportunities, if you will, for working with the changes, not against them as we start marketing with the new Facebook layout.
Bigger Images
If you haven't noticed images are taking over news feeds already. When I update my status using a photo I get more views and interaction than when I post a status without one. That goes for my personal page and business page. Facebook is doing their homework as Zuckerberg mentions during the reveal that photos take up almost 50% of the news feed already. Why not make the experience even more enjoyable by making images bigger, vivid and more inviting. Here is a before and after photo to show you how the images will change.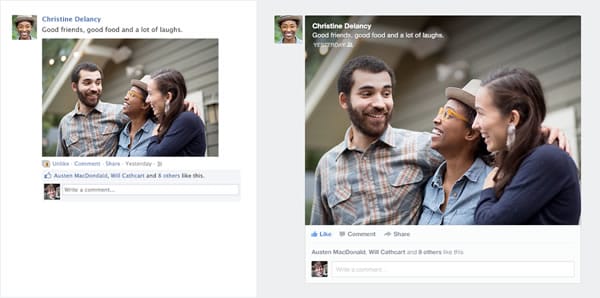 Multiple News Feeds
With multiple news feeds, people will now be able to manage what they see. In addition to the current feed you see today, there will be more feeds that you can subscribe to such as all friends, a feed that shows everything your friends are sharing; photo feed, a feed that shows only photos from friends and Pages you like; music a feed with posts about the music you listen to and following, a feed with the latest news from the Pages you like and the people you follow. Think of Facebook as your very own personalized newspaper.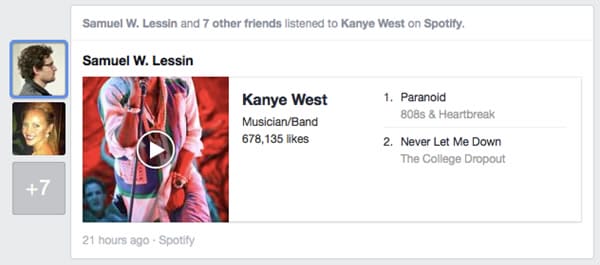 There is a bit of concern and confusion as to what this means for businesses Pages. Will updates on brand's Pages become harder to see? Who will see promoted stories and content or event Facebook ads.
Mobile Consistency
More and more people are logging onto Facebook on everything but their desktops. With the new changes, Facebook will be consistent across mobile platforms. This means that what you see on your desktop you will see on your iPad and smartphone devices.
How to Market with the New Facebook Layout
It's plain to see that Facebook is ever-changing. If we want to remain at the forefront and give our our audience valuable content, we need to adjust accordingly. We must see the Facebook changes as an opportunity to better our marketing practices while sticking to our budgets and reaching our goals.
This major change in particular should give brands a chance to truly feature their creative side. Here's how.
If you haven't already get your design team working on a variety of poster images and graphics that will entice your audience to follow a link, comment or like.

Use text directly in your images rather than in your status. People will more likely be drawn in by the image first.

Keep your copy short, sweet and straight to the point.

Use imagery to tell a story that resonates with your audience.

Create valuable content people are willing to share.

Post relevant content more frequently to ensure you will be seen in the news feeds.
We asked the community what they thought about the new Facebook changes. Gary Nix (@Mr_McFly), Marketing Specialist at Blue Fountain Media commented, "With brand content being separated from your regular feed, you need to be more creative and create content that is easy and favorable to consume. Boring content will hurt your brand more than ever now…It's up to the brands now. There will be pushback from users because the angry voices are often the loudest. However, if brands do what they're supposed to do: know they're audience, create the content their audience wants and marries digital social content to real-time social action, everything will be fine."
While being creative is only part of the equation, brands still need to manage and monitor the best times to post to Facebook as well as the type of content their audience tends to engage in. Remember the other big change made this year in January regarding Facebook's new search engine? Another important question arises. How can brands optimize for Edgerank? Only time will tell.
The video below from CBS goes behind the scenes of the Facebook changes and gives a good overview of what we can expect. Take a look.
What do you think about the major changes coming to Facebook? How do you think brands can leverage these changes to create new opportunities?