Black Friday is an annual event taking place the day after Thanksgiving here in the U.S., sparking the first day of the biggest shopping season of the year.
The calendar for 2013 leaves us with eleven fewer days to shop this holiday season as Thanksgiving falls on the final days of the month this year. Make sure you keep this in mind when planning your holiday campaign and messaging surrounding your online announcements.
Whether you're a small business owner or a large brand looking to reach potential customers and loyal fans, this is the one time of year where your marketing campaigns and online promotions must stand out. Black Friday, Cyber Monday, and the weekend in between generate a lot of noise and chatter surrounding shopping deals, special discounts and exclusive products. So how do you make sure your promotion on Black Friday marketing is a success?
Keep it Simple
If you have a discount to offer, special store hours and exclusive merchandise only available on Black Friday, that's quite a bit of information to try to convey to your customers. To keep it simple, select one of your special promotions to be the primary focus this holiday season. If all three remain a priority, think of how you can get this message across using multiple social media channels.
Holiday Gift Guides
Create a Holiday Look Book with items you'd like to see promoted this holiday season along with live links to make it easy for consumers to add them to their shopping cart. You can create a holiday gift guide in a number of ways.
Pinterest. Brands in the retail space are using Pinterest to piqué the interest of those who use this platform to shop for hot items, add gift ideas to their own wish lists and share great deals with their online community. Create a special board with Holiday Gift Guide suggestions to reach this audience or provide an exclusive promo code or offer to this group of engaged shoppers.
Neiman Marcus recently promoted an item through Pinterest which was the only way customers could purchase the item for a limited time before it became available through wider distribution channels.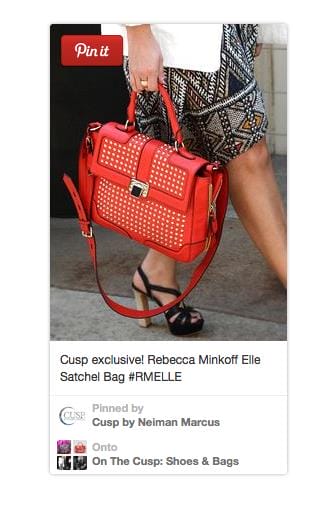 Blog. With your company blog's optimized platform already in place, with easy to share social buttons, you can drive traffic to your e-commerce site to promote the products and special savings you've created for Black Friday and/or Cyber Monday.
Facebook. Luckily, third party apps like Offerpop make it easy to create a Holiday Look Book with live links to make it easy for your customers to add items to their shopping cart. This mobile-friendly platform makes it ideal for sharing with your community of established fans who have already expressed their love for your brand. You can choose to run promotions continuously by adding new products each day leading up to the big holiday, or schedule an end date when promoting limited time deals or products only available between certain dates.
Hudson Jeans recently launched a look book on their Facebook page (with a mobile-friendly version available through Offerpop) to highlight some of their fall collection. The banner across the bottom of each page leads customers to a place to quickly and easily shop for these items.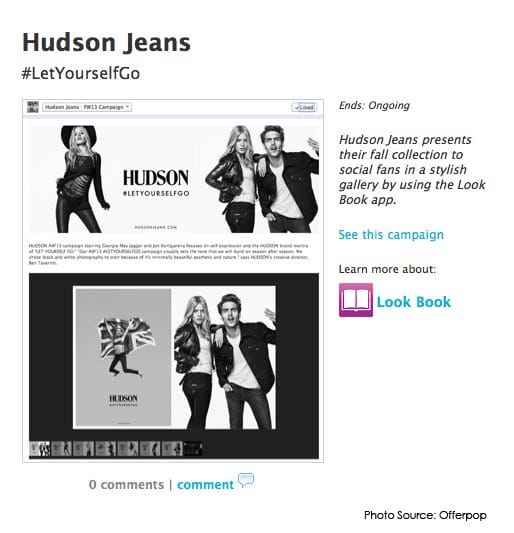 Platform Specific Promo Codes
If your e-commerce site allows customers to enter a promo code at time of checkout, you may want to create unique promotional codes for each marketing platform you plan to utilize. Even if the offer is the same (50% off for example), your unique codes will help in tracking your referrals and make it easier to report on which platforms were more successful than others for conversion rates and sell-through.
Unique Tracking & Reporting
Of course, having more than one promo code may confuse your customers so providing unique links, which you can monitor from your Google Analytics dashboard, might make more sense. Make sure to create separate tracking codes for your email campaigns, Facebook, Pinterest, and Twitter platforms so you can determine which platform performed better for your holiday campaign.
Wrapping it All Up
The end goal for any holiday promotion is to wrap it all up nicely and make sure your customers, and the people they are shopping for, end up with a positive experience shopping with you, in-store or online. Having a customer service team available during the busy weekend, monitoring your online mentions and fielding questions about your promotion, will be the pretty little ribbon that makes your holiday campaign complete.
What are your plans to impress customers on Black Friday this year?
Share a tip!
Hover to pin it or right-click to download to share with your social network.