Be authentic. Be yourself. Be transparent. Be honest.
We've heard it time and time again. There is no denying that authenticity in social media is valued across the board. The phrase, "build it and they will come," doesn't hold much presidency today; because even the greatest ideas need a good marketing plan, especially now that we are constantly bombarded with information. Brands have to find a way to stand out among their competitors and just about everything else that people find interesting on the Internet. What better way to standout than by being authentic.
People want to connect with your brand on a deeper level, not just through your products or even the promotions you have to offer. They want to know the people behind the brand. Authenticity allows you to build your fan base in a natural way, by sharing who you truly are and what you stand for. It's easy to hide behind the virtual mask on social media; but rip it off and become, dare I say vulnerable to the human race; people will want to follow you.
Authenticity allows you to build your fan base in a natural way, by sharing who you truly are and what you stand for. http://t.co/WLyAP0KiJf

— Fandom Marketing (@FandomMarketing) November 6, 2013
Being authentic doesn't mean you have to be boring. Here are 7 ways your brand can be authentic in social media.
Share what's inside. Give people a tour of your company and its culture. Help the world understand what it's like and what it means to be a part of your brand.
Share your process. Be confident that only you can do what you do. Share your code of ethics, mission, vision and even some processes that might make your brand unique.
Share how your products are made. In this day and age, everyone wants to know where it came from. Did you harm an innocent calf in the process of producing your milk products? Or did you take an extra step to create a process that conserves and protects wildlife. Give some insight on how you make your product environmentally friendly.
Share your personal stories. Every brand has a story whether it's from the CEO, an employee or a client. Draw people in with emotion. Highlight stories from every angle and share how they affected your brand and why it was important to you. Southwest Airlines is a perfect example of a brand that values personal stories. In fact, they have dedicated an entire section on their blog, titled LUV Mail where they post real letters from customers about their personal experience.
Share what you're passionate about. Does your brand support a certain cause? Do you reward employees for their public service? Do you enforce a social responsibility policy? Let us know; we might support the same cause and in turn support you.
Share your mistakes. Don't be afraid to share your mistakes, everybody makes them. Chances are someone is going to learn from them, why not be their teacher. Let everyone know, although you're perfect you learn from your mistakes.
Share how you like to have fun. People like to have fun, it's healthy to laugh and enjoy life even while at work. Share some photos of your employees having fun at a company party (all in good taste of course). Here's a picture of Fandom Marketing's co-founders dressed up for Halloween that was posted on their Facebook page. Holidays are a great time to show how the people behind your brand have fun!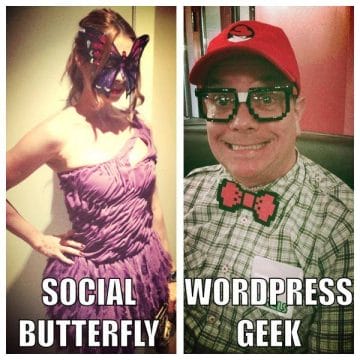 What are some examples of how you remain authentic on social media? Let us know by leaving a comment below.