[youtube=http://www.youtube.com/watch?v=5nt3gE9dGHQ&color1=0xb1b1b1&color2=0xd0d0d0&hl=en_US&feature=player_embedded&fs=1]
Prediction: as Gmail Priority adoption goes up, open rates go down

Email marketing is about to get ugly. While email is the most widely used tool online it's over saturated, overwhelming, and ***NOISY***. The smart people at Google have done it again. They cut through the noise by prioritizing messages in your inbox. You can bet others like Yahoo and Outlook will follow. Here's a bad screen shot of what Gmail Priority looks like – the names of the innocent and my personal info scribbled out – but you get the idea.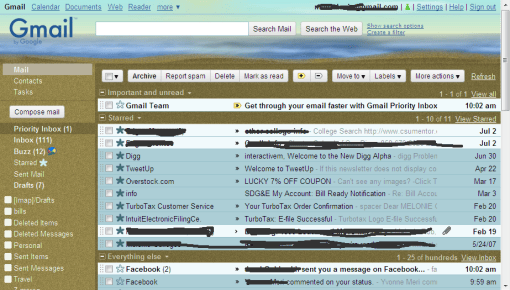 What does this mean to your "deal of the day" newsletter? It means you will have to work harder to earn their favor. You will have to be better. You will have to be on-spot timely and relevant. If your recipient is not moved by your offer enough to favorite it it will never reach the top of their inbox and possibly never be seen.
Take Action ~ 5 Steps to Better Email Content

Stick to Popular Content: Find what topic are most popular your audience.
Measure and Take Action: Look at your email analytics for most clicked, if all of your content is not clickable, link it up and measure.
Focus on Topics Important to Them, Not You: Look outside to conversations in social networks using buzz monitoring tools. Tie the topics into your messaging to motivate and engage your audience.
Set Goals For Movement: Set reachable goals and create an optimization plan now. Consider call to action, segmentation and timing.
Determine How Worried You Should Be: Determine how many subscribers are using Gmail to assess the impact on your program. If it is zero, still do the steps above because it will make your newsletter better.