By: Morgan Quinn
You don't need to spend a small fortune or hire a pricey agency to create great video marketing content. In fact, when it comes to video content marketing, less is often more. If you aren't sure if now is the time to dive into video marketing, consider this: 26% of Internet users look for more information after viewing a video[i], and 12% of viewers purchase the specific product featured in the video[ii]. Also, globally, online video traffic will make up for 55% percent of all consumer Internet traffic in 2016[iii].
So, are you finally ready to embrace video marketing? Here are three easy ways to make a big impact on a small budget:
Create a Weekly Series
A weekly video series supports a stronger connection to your brand and will leave a lasting impression on your customers. Many small businesses assume a weekly video series is financially out of reach, but by nailing down the basics (good lighting, a stable camera, and clear audio), the quality of your content (not the size of your budget) will keep viewers coming back for more.
Who does this well:
Inbound marketing and analytics software service Moz is known for the simple and succinct style of their Whiteboard Friday video series. Check out their impressive page views and time-on-page stats[iv]: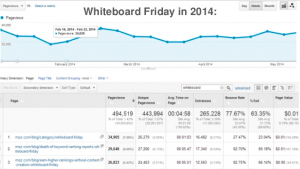 Moz proves you don't need high-end video production to gain attention and grow your business. As Moz CEO and cofounder Rand Fishkin says, "I think viewers actually appreciate some of the imperfections and lack of corporate polish."
Takeaways:
Use your weekly video series to express thought leadership in your industry, leverage current events, and start a conversation.
Cover topics that find a balance between your company's needs and the interests of your customers.
You don't need to invest in fancy equipment – a quiet room with good lighting and a mounted smartphone is a perfectly reasonable place to start.
Tell an Interactive Story With Pictures
If a picture is worth a thousand words, a video of pictures strung together will tell a lifetime of stories. Picture stories are a great way to create an emotional connection with your customers and create an experience that will resonate with them long after the video has stopped playing.
Who does this well:
In this powerful video RAM knows exactly who their audience is and what their emotional touch points are. The video does not promote the product features, instead it speaks to the loyalty and devotion farmers have for their craft.
Takeaways:
Create an interactive slideshow with photos and music using a tool like Animoto or Flixtime.
Resist the urge to only use photos that show your product. Focus on relevant pictures that evoke emotions and speak to the role your product plays in your customers' lives.
Integrate your videos into the company website, email marketing campaigns, and social activities.
Consider leveraging user-generated content for budget-friendly images that resonate with your audience – your customers are your best marketers!
Get Social Using Instagram Videos
Instagram allows marketers to quickly create and publish bite-sized 15-second video content that can be easily shared on Facebook, Twitter, and Tumblr. The social platform has a staggering 200 million active users and engagement rates that are 15 times higher than Facebook[v].
Who does this well:
Ben and Jerry's creates drool-worthy videos of their ice cream in the making. Not only does the footage look downright delectable, but it's also a fascinating behind-the-scenes look at a fairly unseen process.
Video content marketing takeaways:
Keep your Instagram videos simple and casual. This is an opportunity to show off your company culture and style!
Answer FAQs, shoot a quick product demo, or show behind-the-scenes footage.
Push your Instagram videos out on other social channels to increase reach and engagement.
Consider including a popular hashtag to increase reach and engagement.
How have you found success using video marketing? Tell us in the comments!
Sources:
[i] https://www.millforbusiness.com/video-marketing-statistics/
[ii] https://www.millforbusiness.com/video-marketing-statistics/
[iii] http://www.cisco.com/c/en/us/solutions/collateral/service-provider/ip-ngn-ip-next-generation-network/white_paper_c11-481360.html
[iv] http://www.slideshare.net/randfish/how-moz-does-video
[v] http://www.l2thinktank.com/research/instagram-2014
Meet Guest: Morgan Quinn
Morgan is an experienced content marketer and social media strategist. She has managed content marketing and social media for companies like Mint.com, Quicken, and Business.com, where she currently serves as content manager. You can connect with her on Twitter and LinkedIn.
Want to be featured next? Fandom is looking for social marketing rock stars to share their stories, case studies, tips and expertise. Check out our blogging guidelines and contact us or tweet us @FandomMarketing today.