The big question in social media is "what's next?" These days every company has a Facebook page: the company that succeeds is one that can go beyond the normal page offerings and find ways to deliver more of what their consumers need and even things they don't know they need. To make a Facebook page stand out requires time and effort, but the results can propel you forward and garner kudos from fans looking to engage at a higher level.
Here are three ways to take your Facebook page to the next level:
1. Beyond Traditional Customer Service
If you're retail, hospitality or a service-oriented brand, what is one of the top value-oriented services you can offer? Live chat. More and more people prefer to solve problems and get answers over the internet; by offering live help on your Facebook page you're delivering a service that will leave many of your fans thrilled to take care of the problem or get an answer immediately.
White House Black Market advertises "Live Help from a Style Expert" in one of the top tab boxes on their page. It's easy, quick to navigate and obvious their priority is to help.
Nike's page, while it's not live chat, does offer the ability to ask a question, include an attachment, make your question private or public and browse other questions. Including an image saves time for both parties and is a simple yet brilliant feature.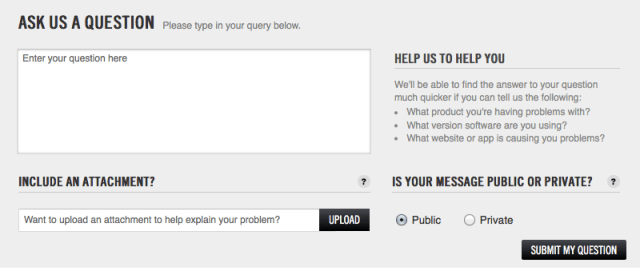 2. Solve Problems in a Fun Way
If you can anticipate fans problems or offer a solution to a problem they didn't know they had, go for it!
Target offers a "Give with Friends" option where you and friends can all contribute to a gift card. Everyone knows the challenge of collecting money for a group gift; this solution is fun and provides a service people wouldn't expect.
Adidas Originals brings a fun solution to Facebook's new profile timeline design. Many people resisted changing over to the new layout and didn't know (or have) a great photo to represent themselves. Adidas Originals has a fun "Originals Cover" feature where you can build your own timeline image with cool backgrounds, graffiti-type fonts, photo upload and symbols. They don't get caught up in branding it; they can count on word to spread virally once fans start sharing their new timeline images.
My adidas Original timeline image:

By solving problems for fans, companies increase the chances their customers will go forth and share their cool experience with friends.
3. Entertain
Facebook frequently takes the blame for lost productivity in the workplace. This means there are millions of people spending time on the site; how can you grab a portion of that time? Engaging content and interactive elements.
Billabong recently live-streamed an event on their Facebook page and fans could discuss the event right there. The Official NFL page has a fun Photo Booth where fans can take a photo so it appears that they're standing with their favorite player, and they can customize it with NFL gear and share it with friends.
Take Your Facebook Page to the Next Level
The companies that succeed will be ones that can deliver service along with useful and relevant content. If you're interested in taking your Facebook page to the next level, give us a buzz!