Now that the New Year is well underway, it's helpful for companies looking to engage in social marketing to have a look at last year's trends. Looking at what's next for social media in 2014, last year we witnessed an explosion of Internet usage via mobile devices and an increase in content as a form of marketing.
At the same time, we also witnessed a continued drop of traditional advertising methods. Social advertising was on the rise with an estimated $10.24 Billion advertising dollars spent. Last year, 64% of advertisers expected to increase their social media ad budget in places like Facebook, Pinterest, Twitter and YouTube.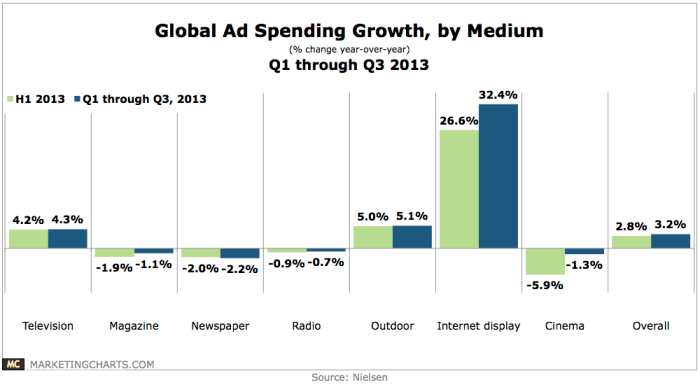 (Image Credit: MarketingCharts)
And, we no longer view social media as simply a way for connecting with friends.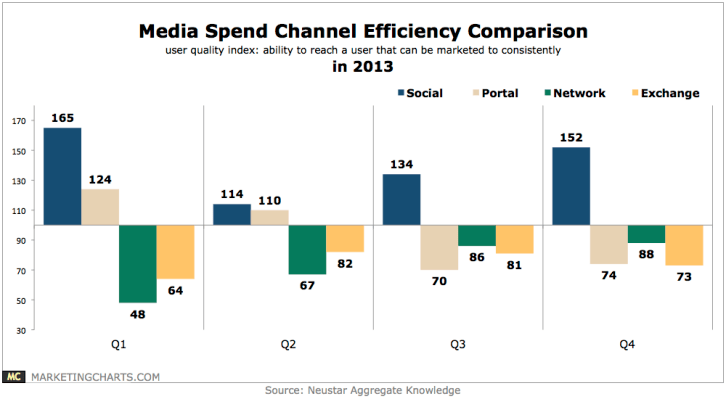 (Image Credit: MarketingCharts)
At this time 12 months ago, the forecast was unclear, but hindsight is 20-20. Therefore, we can learn from those predictions that have come true and bid farewell to the marketing tactics that don't show promise. Determining social media predictions for 2014 involves looking at the past to plan for the future. Here we go!
Social Media Predictions 2013
2013: The number of users accessing the Internet with mobile devices will explode.
Today, mobile Internet access continues to grow at an explosive pace. According to the Adobe 2013 Mobile Consumer Survey, 71% reported using their mobile device to access social media. Even more, Facebook reports that mobile users " make up a whopping 78% of its 128 million daily US users."
Businesses must keep up by implementing responsive digital capabilities that adapt to any type of device that will visit their landing page. As an alternative to maintaining a second mobile site or investing in expensive technologies, companies seeking to boost their online presence should consider investing resources into the development of apps optimized for portable devices.
2013: LinkedIn will maintain its position as most popular social media site for professionals.
Among today's busy executives, what's next for social media in 2014 is staying connected and following content on LinkedIn. This platform is a forum that appeals to professionals who find music and other entertainment features distracting, at least as far as their careers are concerned. These users want valuable, educational content that can get them ahead in their pursuits and can get them further when it comes to networking opportunities.
Social Media Predictions 2014
2014: Sharing images and videos will exceed text content for online marketing.

Text content was a major force in the evolution of the web, but this year will be all about visual appeal. More users will be drawn to high-resolution images and streaming video when they're seeking information, whether it's for entertainment purposes or for professional reasons. The next phase in unproduced video is short user generated clips made popular by social networks like Vine and Instagram. These short films will appeal to those who want to create or watch videos without a significant time investment. Brands will learn to write less and say more in quick visuals.
2014: Google+ will continue to gain traction with mainstream users.
While it may have struggled to become popular as a social media platform, Google+ has quickly developed into one of the biggest gainers among the big names in social media. As you may know, Google already collects personal and demographic information from those who use its email platform and search engine. This made it easy for it to turn into a social network with an instant audience. By using this data, Google+ in turn provides a social media platform that's even more tailored to the user, his or her interests, and behaviors. The result is a customized experience that's streamlined and seamless compared to competitors. It was thought that these Gmail users would never convert to active social networkers but Google+ has proven us all wrong. They now boast the number two spot for the most active user audience.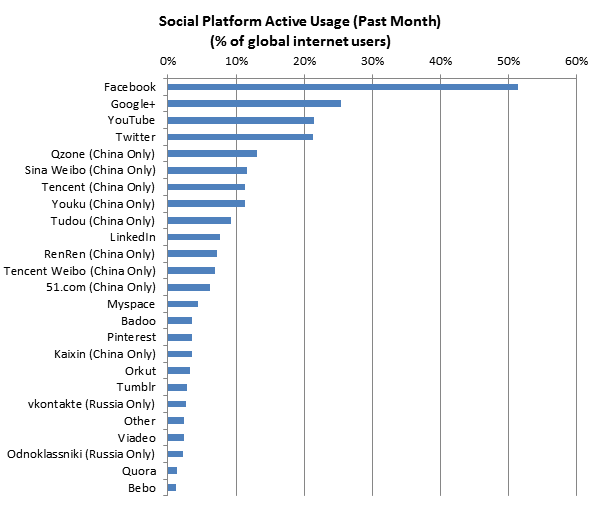 (Image credit: GlobalWebIndex)
2014: Brands will become news publishers.
In 2014 brands will transform from content marketers to news publishers. Although content marketing isn't something new to advertising, it experienced a serious digital explosion in 2013. This tactic will continue to be an important focus for marketers. With so many businesses and individuals jumping on the bandwagon it's beginning to get noisy. There is an over abundance of content to say the least. Those who take it seriously will compete for eyeballs like never before. Companies like Pepsi have turned their homepage into a news hub.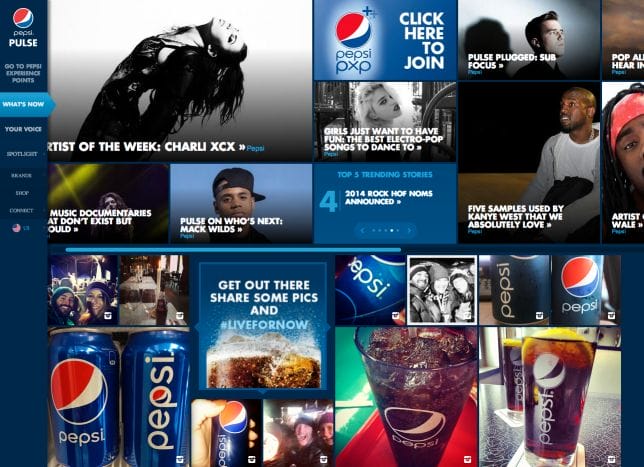 (Source: pepsi.com)
Even big retailers like Walmart are experimenting with ways to use content to sell their products. Not just any content, social content. If you take a look under their "trending" products feed they've combined the hot list from their shopping cart with a user generated hot list from Pinterest.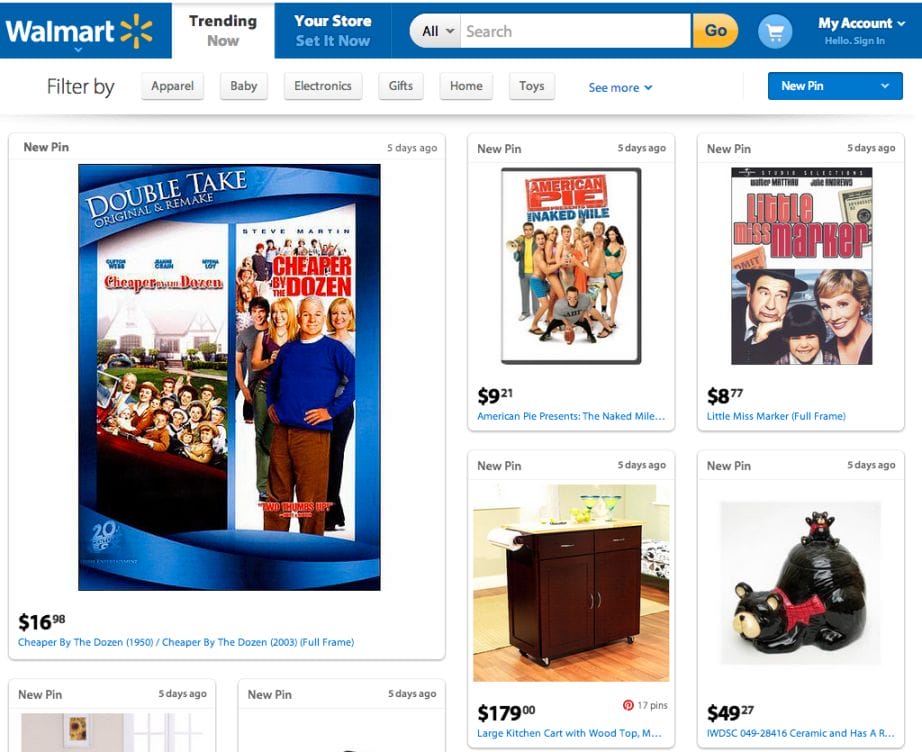 (Source: walmart.com)
2014: Social networkers will grow old.
Social media isn't something that teens do exclusively. For years the fastest growing audience on Facebook has been baby boomers. This began long before teens started abandoning Facebook for other cooler apps. In September Pew Internet Project's research related to social networking revealed that 73% of online adults now use social networking sites.
As social media permeates the mainstream it will continue to become an everyday part of life. Most kids entering the workforce a few years from now will have never used a landline nor remember life before Facebook. You can bet mom and pop will be running behind her texting, tagging and commenting to make sure they stay in touch. Social media, and online users for that matter, will move the demographic mark. It will be no different than anything else. Each generation will behave and use it a little differently.
Although the future of what's next for social media in 2014 remains to be seen, some indicators show that we'll continue to take advertising efforts online through inbound marketing efforts. The faces may be different in 2014, but the concepts behind marketing will continue to stay the same the more they change.
What social media prediction didn't come true for you last year? Share your 2014 predictions in a comment.