Today is National Aviation Day and it is fitting to recognize certain individuals for their contribution to our freedom in America and the art that keeps the story alive. These are:
The Tuskegee Airmen and Stan Stokes
If you are not familiar with the story of the Tuskegee Airmen, they are our unrecognized African American heroes in the United States who fought in WWII. An era when African Americans got little to no respect and credit. Via TuskegeeAirmenArt.com: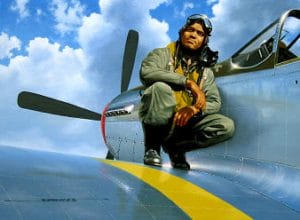 Fighter Pilots are the elite of the military. They have proven to be the masters of the hottest pieces of machinery in the air and the intelligence to use that machine in a duel with an equally equipped enemy and come out the victor.
These men had been looked down on as inferior and incapable of piloting an airplane. They had to force those in charge to give them the chance to try and when given that chance, they excelled. In the end, the "Tuskegee Airmen" earned the right to carry the esteemed title of "Fighter Pilot."
Stan Stokes the artist, biographer, author, historian, lecturer….the amazing human being…has worked for years to get the story out about the Tuskegee Airmen working directly with the heroes themselves.
You can contribute by first learning about the story, then sharing it today as a celebration of National Aviation Day and our African American heroes.
Tweet and share this:
Happy National Aviation Day! Celebrate the story of The Tuskegee Airmen:  http://bit.ly/gzv6L