Twitter Advertising for Small Businesses is now being rolled out. It's really a great opportunity for small businesses to build an audience on a budget. This post uses Minglestream's advertising efforts as an example of the possibilities. Twitter advertising can be good if your social media objectives are to build more awareness or simply gain a larger following on Twitter.
How it works
To begin advertising as a small business on Twitter you must first be awesome enough for them to invite you to join! Currently, the advertising feature for small businesses is by invitation only. Like most pilot programs, that will probably change, sooner rather than later.
Getting set up is super simple. Twitter asks a few questions about your target audience and BAM! You're ready to start choosing your advertising options. The dashboard is nice and simple.

Promoted Accounts Versus Promoted Tweets
This is probably the most important part to understand. Twitter gives small businesses the option of advertising as a promoted tweet or a promoted account.
Promoted Tweets can be compared to promoted stories on Facebook. Your most engaging tweets are your advertisements and are promoted to your followers and those who might find an interest in following you. Twitter also gives you the option to stop promoting certain tweets if you don't approve or think they might not be effective for whatever reason. They show up in search results on twitter.com, popular promoted trends and home timelines.
Promoted Accounts focus on gathering new followers. Twitter will feature your account in the Who to Follow section targeting users who are most likely to engage and be interested in following you. Thus opening a whole new world of potential followers. According to twitter.com, Promoted Accounts are seen in three places, on the Who to Follow page, People search results, and on profile pages as part of the Similar to you widget.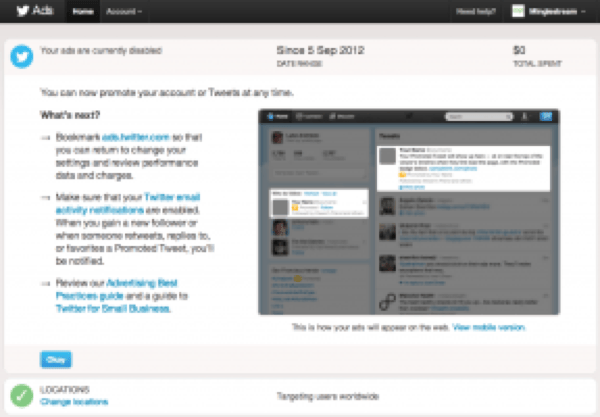 What is my investment?
You will be pleased to know that small business can create their own budget when using Twitter for advertising. With Twitter advertising, you get out as much as you put in. As you can see below, I opted to promote @Minglestream tweets and the entire account. The cool thing it that I was able indicate how much I wanted to spend per day on advertising.
Twitter recommended a maximum 'bid' but I went with what I was comfortable with. For example, I wanted to pay no more that $1 per new follower to promote the account. Twitter can charge anywhere from $.01 to $1. Based on that amount, Twitter estimated that I could expect 24-34 new followers per day. Oh, and I am also able to put a cap on how much I want to spend per day. On the right is a preview of what my "advertisement" would look like. Pretty easy.

The process was similar for promoting tweets. You can see in the preview on the right that the promoted tweet looks a little different from the promoted account above. This screenshot shows some actual social media metrics! From that one promoted tweet I received 2,752 impressions, had a click rate of almost 50%, 13 clicks and at the end of one day I only spent $4.60.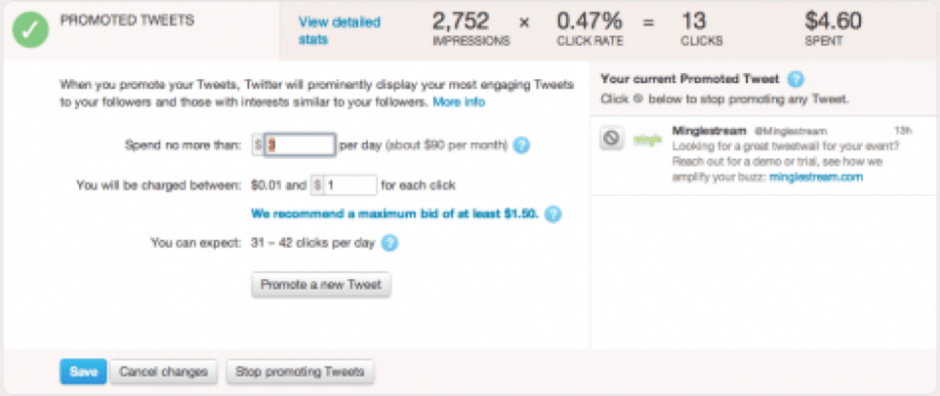 Results & Recommendations
After having used Twitter advertising for only a few weeks, I've found the results to be great for a niche product or service. For highly competitive areas, the cost per click becomes prohibitively expensive.
I would recommend Twitter advertising for businesses whose goals are to increase their following and reach on Twitter, build brand awareness, or capture a new audience in a specific region. Consider your social media strategy, and budget, and if Twitter is the best platform for you to spend your time and efforts on. Facebook's advertising platform may be a better fit, but doing some A/B testing and comparing the ROI would give you the answer for your specifics.
Finally, don't forget that engagement is key. It's still important to organically grow your audience by engaging in good old conversation with your audience! You might find our post on The 5 Rules of Engagement for Brands Twitter helpful to get you back on track.
We'd love to hear from you about your experience with Twitter ads. Have you been invited to join? Are you using Twitter advertising for small business? What do you think?