It's no secret that Pinterest is a popular social network across the board. According to a study in July 2013 by Semiocast, Pinterest has 70 million registered users. Women and men alike can't get enough of the site featuring beautiful images that entice and assist them in making their next purchase in almost any category. In addition, Social Media Today shares in their list of Pinterest Stats to Consider that "47% of U.S. online consumers have made a purchase based on recommendations from Pinterest."
Brands are catching on and discovering the exponential benefits to using Pinterest for eCommerce when used the right way. For those of you who have an eCommerce business it's a must that you integrate your site with Pinterest. In 2013, Pinterest introduced Rich Pins. Rich Pins add extra detail to help make your pins more useful for consumers and more profitable for you.
If you're considering integrating Pinterest into your eCommerce site, which I recommend, keep reading. In this article I will show you how your eCommerce site can benefit from Pinterest and provide some examples of brands that are using rich pins successfully.
Currently there are two ways social sharing works on Pinterest.
1. Social Sharing Enablement
The brand pins the product to Pinterest on their board: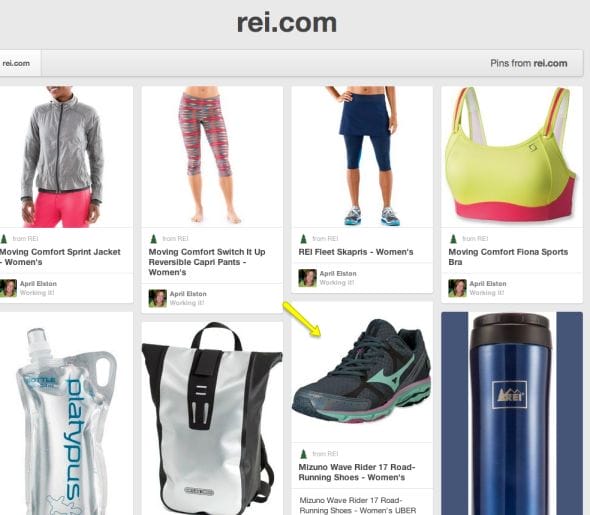 Or, a customer does using a Pin It sharing button on the product page of their website: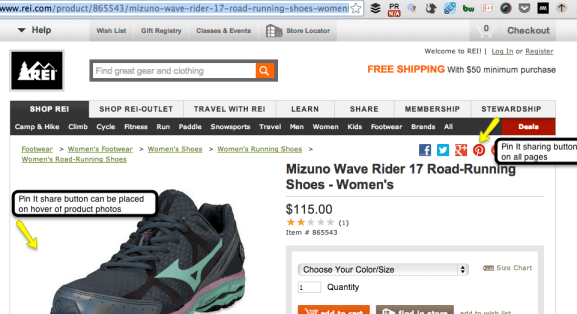 Pin It Sharing Adoption
Blogs and eCommerce sites regularly integrate the pin it button as a hover display on website images. Now anyone using Chrome will see a Pin It button when they hover on any website photo. You can install a Pin It button on your site too in five easy steps.
Many Pinterest users will install a browser plugin to have a Pin It button in their Firefox, Chrome or Internet Explorer menu.
2. eCommerce Website Integration for Rich Data
eCommerce websites that are enabled with "Rich Pins" will display in special shopping sections of Pinterest; products and/or gifts: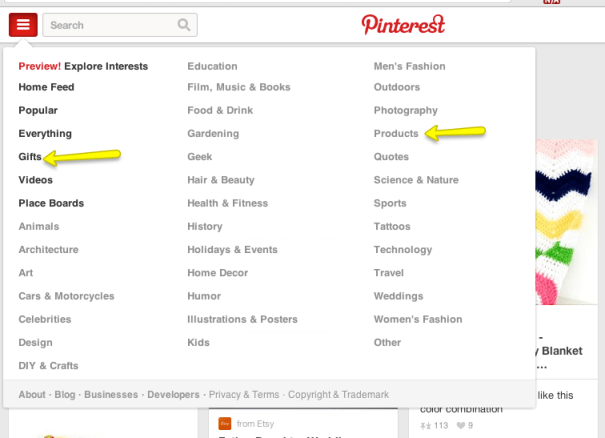 Pinterest "Products"
Another good reason to integrate with Pinterest is the use Pinterest Products. Select items will display within the products section as well as the Pinterest regular feed that is shopping focused with items available for purchase online from retailers. Here's how products, and gifts, are clearly marked and displayed in their respective sections.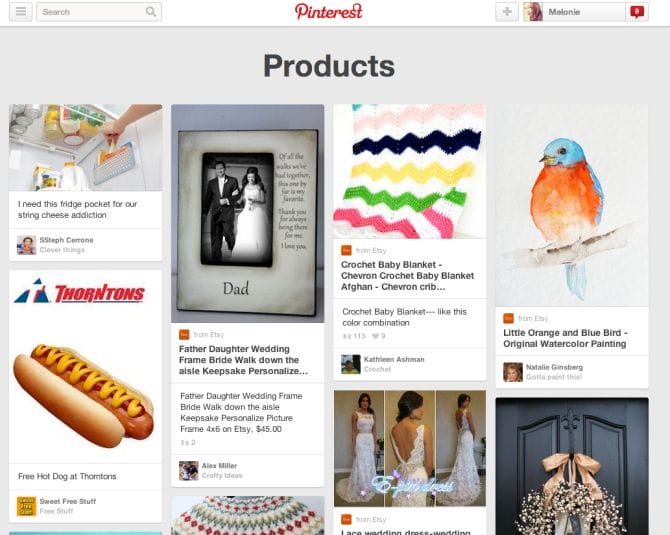 Gifts Section of Pinterest
The "Gifts" section is a new feature. It provides gift suggestions filtered by price point and highlighted category, similar to the way products are featured above. Here's another example: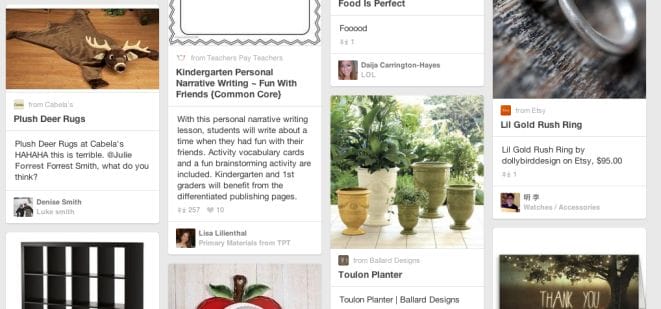 eCommerce on Pinterest is Enabled by Rich Pins
Rich pins are implemented to the eCommerce website code. The "rich" display allows you to automatically display the following on pins to and from your product pages:
Display shopping cart information: pricing, in stock, link to purchase

Display more items you sell

Collect Pinterest followers to your brand

Sell product and drive traffic
Brands who have integrated Pinterest "products" and "gifts" to their shopping carts (called rich pins):
Walmart
Etsy
Anthropologie
Modcloth
Nordstrom
Zulily
Urban Outfitters
J.Crew
Overstock.com
eBay
Zappos.com
Cabela's
Sierra Trading Post
REI
And more…
In the example below, this item on Pinterest was pinned by the brand and then repined by a customer to their "Working Out" Pinterest board. She is collecting a wish list of products with intention to purchase. These pins are also seen by her followers on Pinterest, and any social networks she broadcasts her pins to in addition such as Twitter or Facebook.
Shopping Cart Traffic
When someone on Pinterest clicks one of the many links or photo itself, on the Pinterest "pin" they go to the product page in your shopping cart. You can note that the brand uses a tracking code (in bold) to attribute the traffic and sale to Pinterest in the URL.
http://www.rei.com/product/865543/mizuno-wave-rider-17-road-running-shoes-womens?cm_mmc=sm_pin-_-share&cm_mmc=sm_pin_feed-_-datafeed-_-product-_-865543&partner=sm_pin_feed&mr:trackingCode=A20D900F-60A9-E311-90E9-BC305BF82162&mr:referralID=NA
Are you as excited as I am about using Pinterest to drive traffic and increase sales on your eCommerce site? Of course you are! Now that you're an "expert" on Rich Pins and know which brands are using Pinterest for eCommerce, think about how you'll integrate and implement these tools into your site. If you could still use some help with Pinterest leave your questions in the comments below. Or, if you are already using Pinterest let me know how it's working out for you. You can always contact us too.