Summer is really heating up, and so are the brands that are producing some of this season's hot social media campaigns, leaving us no choice but to engage and share. Because they're just that good! Summertime is the perfect time for brands to get social since everyone wants to share their summer experience with the world whether it's a week-long vacation or a backyard bbq. The excitement of summer gives brands the opportunity to have fun with their customers in a personal way.
Here are three hot summer social media campaigns that could not be ignored. By the way, notice they all are hashtagging it!
Coach: #coachfromabove
I have to admit, I was made aware of this campaign through Jay Baer's daily newsletter, Convince & Convert. As a woman, the Coach from Above campaign really stood out to me. Coach asked customers to share the view of their shoes from above by posting photos on Instagram and Twitter using the hashtag #coachfromabove. As an incentive fans have a chance for their photo to be featured on the company website. This campaign made for some serious user-generated content because, let's face it, women love showing off their shoes. I love how creative some women were with their photos. You could tell fans had fun sharing their "souls". Although the campaign started on Instagram and Twitter, it overflowed to the company's other social platforms including Facebook and Pinterest. This allowed for increased exposure and helped the campaign gain even more traction. According to Convince & Convert, the campaign generated over 600 users on Instagram alone during the first eight weeks. This is a perfect example of how brands can engage with their customers in a fun and personal way.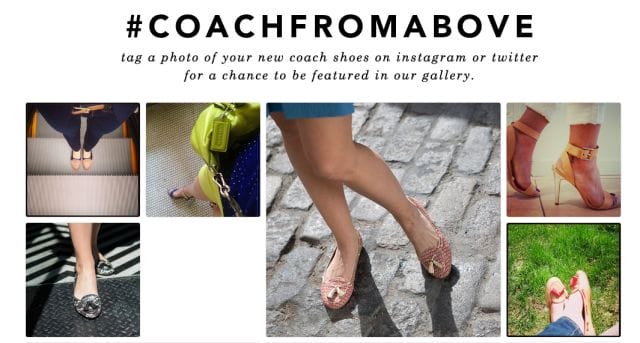 Lay's: #Lays75
Who doesn't love a good potato chip? This year marks Frito-Lay's 75th year anniversary, and their summer campaign theme is, "Making Summers Perfect for 75 Years". In honor of this milestone, Lays is creating 75 amazing models made of potato chip bags and posting them on Facebook and Twitter.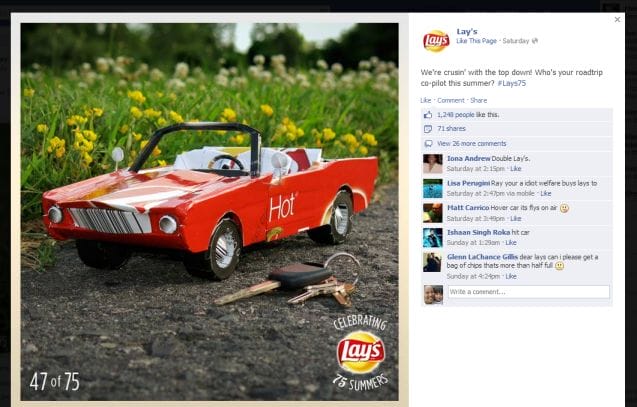 In addition to the models, they are running a sweepstakes on Twitter encouraging fans to share their summer pictures for a chance to win a $75 gift card.
Share your #summer pics with #Lays75 to be entered to win a $75 gift card! http://t.co/lZEbADwm5e

— LAY'S (@LAYS) June 30, 2013
I love how Lays used the combination of celebrating summer and their 75th year anniversary to create a fun and clever campaign. They recently held another successful campaign called, Do Us a Flavor  where they asked fans to vote for their favorite flavors. It's great when brands aren't afraid to involve their fans. I think when brands do this It makes people feel a little more connected and appreciated as customers and loyal fans.
Chiquita: #StickAMinionOnIt
Chiquita is celebrating the release of Despicable Me 2 with their #StickAMinionOnIt giveaway. If you've seen the movie, there is something fascinating about bananas that make the Minions go a little, well bananas! The giveaway is being run on Instagram and asks customers to go out to their local grocery store, buy a bunch of bananas with the new Minion stickers on them and check out the weekly challenge to find out where to stick them. Customers are then encouraged to take creative photos of their stickers, in the place the challenge asks them to, and then post them on Instagram using the #StickAMinionOnIt hashtag. If you've got kids, this is something you can enjoy together. Plus you get to enjoy a healthy snack while you're at it.

What are some of your favorite summer social media campaigns? Let us know by leaving a comment below.